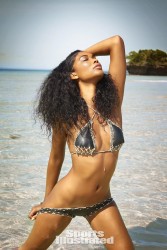 I was flipping through the 2016 Sports Illustrated swimsuit edition the other day and thought to myself god damn that Chanel Iman is really fucking hot … and she looks Asian. I must live under a rock because it was the first time I ever saw or heard of her. Then again the only models who ever get any attention in the United States is Kendall Jenner and Gigi Hadid.

I googled Chanel Iman and it turns out I was right. Chanel's mother, China Robinson, is half Korean and a half African-American war baby from Seoul making Chanel 1/4 Korean.


Chanel Iman (above) was also in the 2015 movie "Dope" and got naked in it. I must say I really enjoy Chanel's acting!